When it comes to inflatable boats, Intex is one of the biggest names on the market. It's the go-to manufacturer for adventurers looking to spend time out on the water, whether fishing, paddling, or rafting.
Intex offers a wide selection of inflatable boats to serve these purposes; the Mariner 4 and Excursion 5 are two of the most popular models. Both boats are equipped with convenient features to make your experience more enjoyable.
Today's Intex Mariner 4 vs Excursion 5 comparison will help you decide on the right inflatable boat for your needs and budget.
Size and Weight
Choosing the right size for your inflatable boat depends on your individual requirements regarding multiple factors, such as:
The number of people you want aboard
The amount of space you need
The level of comfort you expect
The Mariner 4 measures 129 inches long, 57 inches wide, and 19 inches high. It weighs approximately 87 pounds.
True to its name, the Mariner 4 accommodates seats for 4 people on board with 3 blow-up seats. You can rearrange those seats to wherever you want on the boat or remove them altogether for additional space.
The Excursion 5, on the other hand, measures 144 inches long, 66 inches wide, and 17 inches high. It weighs around 57 pounds.
As its name suggests, the Excursion 5 can accommodate up to 5 passengers. It comes with 2 inflatable seats featuring backrests and a sizable middle seat.
All those seats are adjustable and removable, so you can replace them with other seats or take them out to make more room for your gear or to stretch your legs.
As such, you can see that the Excursion 5 is better suited for larger families than the Mariner 4.
Weight Capacity
One thing you shouldn't overlook when shopping for an inflatable boat is the maximum weight it can support.
The Mariner 4 is designed with a maximum weight capacity of 990 pounds, whereas the Excursion 5 offers a maximum weight limit of 1100 pounds.
As you can tell, the Excursion 5 boat has a higher weight capacity, which is necessary to accommodate the extra passenger capacity.
Although most inflatable boats are built to support a lot of weight, you must never assume that your boat can handle a certain weight without checking first.
This is especially important if you're planning to have company during your time on the water. If you're inviting people onboard your inflatable boat, you have to make sure the combined weight of passengers -yourself included- is below the weight limit.
You should apply the same level of care when loading gear. Many people tend to underestimate the weight of equipment, which risks their safety as they venture into the water with excess weight.
Construction
Durability is a crucial aspect of the build quality of any inflatable boat. The air factor may give you the impression of flimsy construction, but that couldn't be further from reality.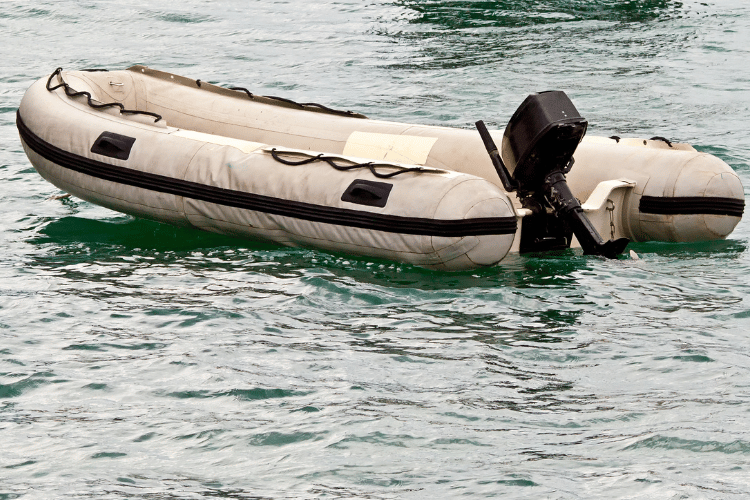 The Intex Mariner 4 and Excursion 5 are made using ultra-thick anti-puncture materials that ensure durability while providing comfort and rigidity.
The tube material is SUPER TOUGH™ PVC (polyvinyl chloride) on both models, whereas the floor material is heavy-duty, extruded plastic. They're resistant to damage from impact, abrasion, and sunlight.
The Excursion 5 has an extra support feature on its floor known as an I-beam to further enhance its durability to handle the additional weight capacity.
As for engine capacity, the Marine 4 and Excursion 5 are both rated at 3 HP (horsepower) with a sturdy mount intact.
Features
Now that you're familiar with the size, design, weight limit, and construction materials of Intex Mariner 4 vs Excursion 5, let's take a closer look at their features:
Fishing Rod Holders
Most people who own or are interested in buying inflatable boats use them for fishing out on the water. This means they need their boats to include fishing-oriented features for maximum convenience.
Enter fishing rod holders, which you can find on both the Mariner 4 and Excursion 5.
The Mariner 4 comes with 2 fishing rod holders while the Excursion 5 is equipped with 4 fishing rod holders. As such, adventurers who plan on doing a lot of fishing are better off with the latter model.
Air Chambers
Both the Mariner 4 and Excursion 5 feature highly durable construction with reliable protection against sharp obstacles and heavy impacts. While their materials are anti-puncture, it doesn't mean that getting pierced is impossible.
Having multiple air chambers provides the inflatable boat with an extra layer of security. Each air chamber serves as a backup in case one of the other chambers gets punctured, keeping the structure afloat by preventing the air from escaping completely.
The Mariner 4 and Excursion 5 inflatable boats are built with 3 air chambers each.
Grab Handles/Grab Line
To help passengers on board feel more secure, grab handles are added to inflatable boats. Both the Mariner 4 and Excursion 5 feature multiple grab handles that you can hold onto to gain stability and ground your body when the water is less than calm.
For extra security, the two inflatable boat models from Intex are equipped with a grab line running along the whole shape of the boat.
Oar Holders and Locks
When you take your inflatable boat out on a lake or river, using oars is inevitable for rowing and steering your way through the water.
To make your experience more convenient, the Intex Mariner 4 and Excursion 5 are equipped with 2 holders each for your oars. This helps you stay focused on moving the oars with enhanced control.
These inflatable boats also come fitted with oar locks to secure your oars in place and save you from losing them while out on the water.
Keel
Both Mariner 4 and Excursion 5 feature an inflatable keel on the underside of the vessel. This gives you more control over the boat and boosts its stability so it's easier to handle and achieve a smoother ride.
Accessories Included
When you buy the Mariner 4 or Excursion 5, the box will include the following accessories for your convenience:
Intex motor mount kit
High-Output hand pump
2 deluxe aluminum oars
Gear bag
Battery bag (the Mariner 4)
Repair patch
Warranty
Intex offers a decent warranty period of 90 days whether you buy the Mariner 4 or Excursion 5. This gives you peace of mind and protects your investment against manufacturing errors.
It's worth noting that Intex's customer service is excellent. Contacting the seller or manufacturer with your purchase information is all it takes to receive the needed repair.
Compliance
Both Intex Mariner 4 and Excursion 5 are NMMA (National Marine Manufacturer Association) certified, CE (Conformité Européenne) certified, and TUV (Technical Inspection Association of Germany) approved.
Intex Mariner 4 vs Excursion 5: Specs
| | Mariner 4 | Excursion 5 |
| --- | --- | --- |
| Overall Length | 129 Inches | 144 Inches |
| Overall Width | 57 Inches | 66 Inches |
| Overall Height | 19 Inches | 17 Inches |
| Boat Weight | 87 Pounds | 57 Pounds |
| Maximum Weight Capacity | 990 Pounds | 1100 Pounds |
| Passengers Capacity | 4 | 5 |
| Construction Material | SUPER TOUGH™ PVC | SUPER TOUGH™ PVC |
| Number Of Air Chambers | 3 | 3 |
| Fishing Rod Holders | Yes (2) | Yes (4) |
| Oar Holders | Yes (2) | Yes (2) |
| All-Around Grab Line | Yes | Yes |
| Warranty | 90 Days | 90 Days |
| Compliance | NMMA Certified, CE Certified, TUV approved | NMMA Certified, CE Certified, TUV approved |
FAQs
How long does it take to inflate the Mariner 4/Excursion 5?
It takes about 15 minutes to inflate the Mariner 4 or Excursion 5 using the included air pump.
Here's how:

1. Unroll the boat over a stone-free area.
2. Use the manual pump following the numerical sequence indicated on the valves.
3. Fill until each chamber is stiff to the touch. The walls should NOT feel hard to the touch.
4. Check the main chamber for proper inflation using the included pressure gauge. It should be in the green section.

Avoid overinflating and use cold air only to inflate. Also, keep in mind the effects of weather and air temperature on the internal air pressure of your inflatable boat.

In cold weather, your boat will lose some pressure due to the contraction of air, so you'll need to add more air. In hot weather, air expands and increases the internal pressure of the boat, so you'll need to let some air out.
How long does it take to deflate the Mariner 4/Excursion 5?
It takes about 15 minutes to fully deflate the Mariner 4 or Excursion 5, ready for storage.
Which Inflatable Boat Is Right for You?
This Intex Mariner 4 vs Excursion 5 comparison revealed how reliable and practical both models can be.
Excursion 5, however, seems to be the better option. Not only can it accommodate more passengers and has a higher weight limit, but it's also less expensive.
Compared to Mariner 4, Excursion 5 offers more room for your fishing gear as well as more rod holders. Both units are quite sturdy and will serve you for many years.
Related Posts: