Inflatable water slides are amazing. They're very similar to regular inflatable slides, except that the addition of water prevents any friction whatsoever.
The result is that you build up much more speed, and so while the whole thing is over in just seconds, the excitement is so worth it.
But because of all that extra speed, it's difficult to build inflatable water slides that are too tall. After all, you need a very long run-off area for you to slide into at the speeds you're going, so it's not just about finding somewhere where you can support the height. Tall inflatable slides tend to be very long too.
So, let's take a look at the biggest inflatable water slides you can find across the world.
What is the biggest inflatable water slide in the world?
The biggest inflatable water slide in the world is called the Nova Drop. Located in Perth, Australia, it is the Guinness World Record holder for the tallest inflatable slide, standing at 22.4 meters / 73 feet tall.
It's a giant slide, and you need to climb 12 flights of stairs to be able to ride it, which is a shame since the ride is over in less than 7 seconds. But the thrill of experiencing such a fast water slide is worth it.
What is the tallest inflatable water slide you can buy?
The tallest inflatable water slide that you can buy is the SkySlide. This design is 15.5 meters / 51 feet tall, and requires a run-off that is over 35 meters / 117 feet long, so you'll need a lot of space to house it. It costs around $68,000 to buy new.
However, you can buy second-hand inflatables from the manufacturer, which helps to bring the cost down massively. Imagine buying a SkySlide and then changing your mind? The cost of a second-hand SkySlide is 'just' $25,000.
This slide is dual-use, so it can be a water slide or a dry slide, depending on what you prefer.
It still absolutely dwarfs anything that you'll find on Amazon. The inflatable water slides available to buy to the general public on Amazon are absolutely tiny by comparison. The biggest one available is just 8.8 feet tall…
The World's Tallest Inflatable Water Slides
1. The Nova Drop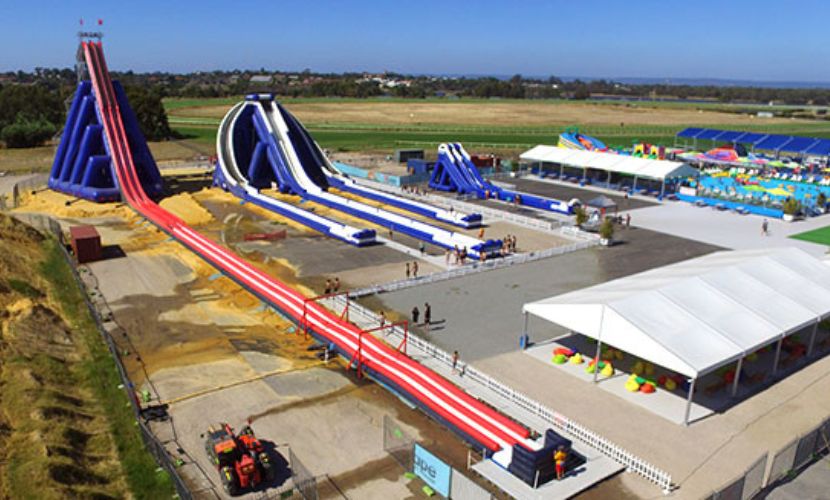 Height: 22.4m / 73 feet
Situated in Perth's Xscape at the City pop-up water park, the Nova Drop is the world's largest inflatable water slide – a record confirmed by its entry in the Guinness World Records (source).
Built by FreeStyle Slides, a US-based company, it's a dual-channel slide which means you can race against one other person when you ride it.
Just be aware that you need to climb 12 flights of stairs in order to reach the platform at the top, which can take a while – certainly a lot longer than the 7 seconds it will take you to fly down the slide
Unfortunately, it's not clear when the pop-up water park will be available. As with many of these inflatable water slides, they are often temporary installations, designed to be a focal point attraction.
Xscape at the City in Perth was originally opened in 2016 and was only intended to remain open that year, and it looks like The Nova Drop has retained its title since this time with no new challengers.
Surely we must be due a taller inflatable water slide by now?
2. Ultimate Mega Falls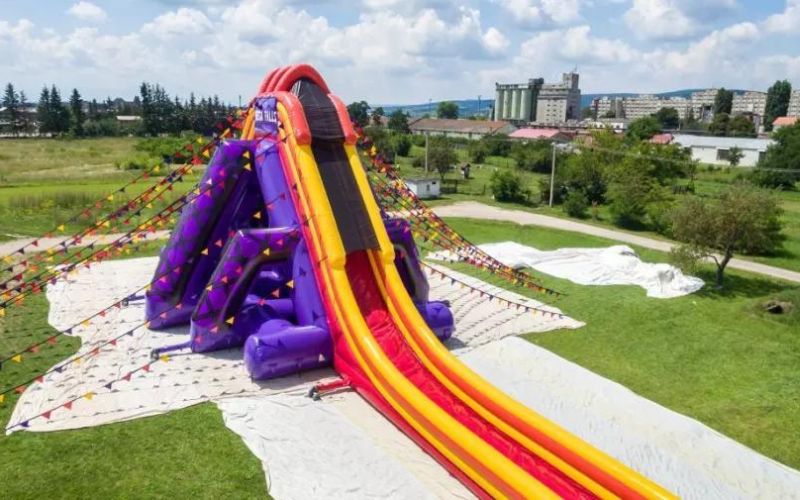 Height: 18.3m / 60 feet
Advertising itself as the largest inflatable slide in Europe, the Ultimate Mega Falls slide is a gigantic inflatable standing at an impressive 60 feet tall.
It doesn't have a permanent base, and instead is a slide that can be hired, with the potential to add branding – if you're hosting a corporate event for your employees and their families then this is a fantastic option, since you can make it look like your company owns the slide!
There aren't as many stairs to climb with this slide, although the ladder is an inflatable one which can be more tiring, so brace yourself for that climb.
It's worth noting that this slide operates as both a dry or a water slide – it's optional, so if you would prefer to just use it as a dry inflatable then you could do, though it will be a lot slower than if you used it as a water slide.

Hiring it in the UK starts at £3000 (so around $3400) but as it takes an incredible 6 hours to set it up, you would need to negotiate with the company if you wanted it to be available to use before midday.
Take a look at the slide in action here:
3. Big Wedgie
Height: 18.2m / 60 feet
As far as I can tell, the Big Wedgie takes the title of the largest inflatable waterslide that has a home base and is still in use. While the Nova Drop was a limited-run inflatable, and the Ultimate Mega Falls slide is for-hire only, Big Wedgie can be found in its own theme park on Australia's Gold Coast.
It's another huge slide, and it's multi-channel too which means it has four slides available to use at one time – great for racing against your friends or just for keeping the lines down as people queue up to ride it.
There are smaller versions of the same slide including the Little Wedgie, so anyone not quite brave enough to take on Big Wedgie has an alternative, or something to help build them up. There's also a medium-sized slide called The Just Right Wedgie.
It's not a slide without controversy though – the owners of the slide have been sued in 2020 by someone who claimed that proper safety procedures weren't followed, resulting in their hip popping out (source).
Most people ride it with no problems though, and it remains popular enough to have its own park.
See the slide in all its glory here:
The Big Wedgie was the former holder of the Guinness World Record for the tallest water slide, and was first built for The Beachouse fun park in Adelaide.
4. Original Hybrid XL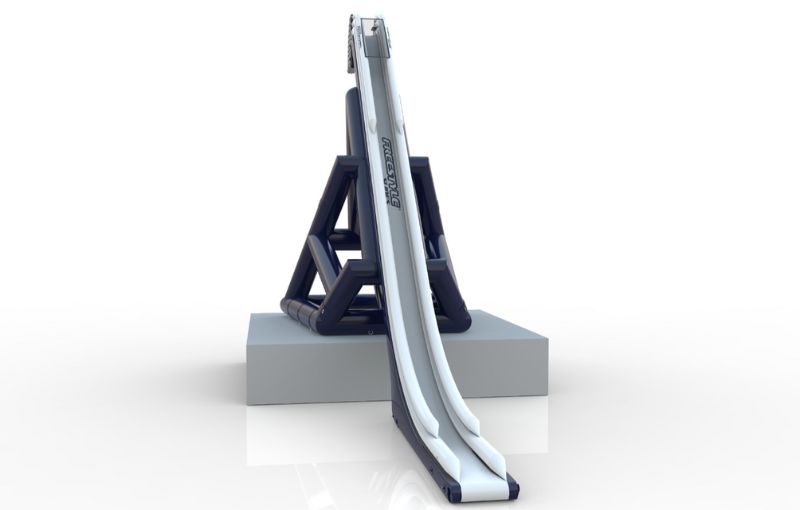 Height: 16m / 52 feet
The Hybrid XL is a water slide manufactured by FreeStyle Slides – the same company that made the Nova Drop. In fact, the Nova Drop is a variant of the Hybrid XL design.
There's little information on the version of the Hybrid XL which preceded the Nova Drop, and officially according to the manufacturer it can be custom-ordered in sizes ranging from 20 feet to the 73 feet of the Nova Drop.
What we do know is that the prior version was made for the Yacht Club in Monaco, and it took people from the top 'deck' of the building (which is designed to look like a yacht) into the harbor waters below.
While it doesn't have its own name, and is just referred to as the Hybrid slide, it does offer a lot of fun and excitement for people lucky enough to be relaxing at this very posh location.
You can see the slide being used here:
5. SkySlide
Height: 15.5m / 51 feet
Manufactured by i2k, the SkySlide is an impressive inflatable waterslide that stands at almost 16 meters tall. It has an inflatable ladder with solid steps, which makes it much easier to climb – you don't want to get close to the top and then slip on an inflated step here.
There are then two slides available, so that you can race people or just keep the queues moving at a good pace.
The slide can be used dry – it has quite a short run-off, but it's at a lower level, with a softer inflated area to provide a cushioned landing – essentially an air cushion, with space to drop into it.
Or you can install the longer run-off on a flat level if you're operating the slide as a water slide, so that users can naturally slow to a safe speed. You can even do one of each – one channel as a dry slide and one as a water slide – if you want to add some variety.
It's the tallest water slide you can buy outright without making a custom order, with a price that starts at a staggering $68,000. These are premium-quality inflatables, after all.
6. The Giant waterslide
Height: 15.2m / 50 feet
Manufactured by iSK8, the Giant mobile water slide is a for-hire slide that is pretty impressive at 50 feet tall. It builds up some speed too with an almost vertical drop, although that does have a downside. You need a mammoth 120 feet run-off to make sure it's safe to use.
It's based in the UK so unfortunately not available to be hired in the US, although Europe hire is offered. If you're based in mainland Europe then this could be an ideal option if you aren't able to book the Ultimate Mega Falls slide that's number 2 in this list.
The slide is available for hire from the company as part of a waterslide package alongside some smaller attractions. Total setup time for the slide is around 2 hours, which isn't anywhere near as bad as some of the slightly larger slides on this list.
The slide was featured on the UK's morning magazine TV show This Morning, where stars from the reality TV show Love Island raced on it:
7. Acworth Slide
Height: 11m / 36 feet
Unfortunately, it takes all the way until we reach the last slot on the list before we find an inflatable slide in the US – and again, it was a temporary installation that was last used in 2018. However, there is always a chance it could make a comeback!
Situated at the Dallas Landing Park in Acworth, Georgia, the slide was 36 feet tall and while it was a single-channel slide, it was wide enough that multiple people could ride it at once – although it was definitely safer when people went one at a time.
The costs for the slide were also very reasonable – you could pay $4 per ride, or $8 for an hour of unlimited sliding, which is pretty cool. Even better, you could pay for a day pass for just $16, or for $30 you would be able to enjoy the slide throughout the entire season that it was installed, as well as enjoy free parking at the park itself. That's a great deal!
And arguably, this water slide had some of the best views, looking right out over the lake in the beautiful country park. It may not be anywhere near as tall as some of the other slides on this list, but it had a lot going for it.
To conclude
The problem with inflatable water slides is that they are rarely seen as a permanent installation. And so while I've been able to find this list of the tallest inflatable slides that have existed, you can't ride all of them today.
Some were only used for a short time, and the owners may have struggled to see a lot of return – especially with world events around 2020 where water slides were not exactly somewhere you could responsibly distance from people.
It's been a while since we've seen a new challenger to the title of the tallest inflatable water slide, but hopefully soon we'll see some new slides created.
They can't get much taller than the Nova Drop – otherwise, the run-off has to be exceptionally long – but there must still be a few extra feet that can be squeezed out of the designs.
Related Posts: