There's nothing better than soaking in a hot tub after a long day at work. The warm water can melt away your stress and help your muscles relax.
Although, the device can take up a sizable space in your backyard. That's why many people prefer to install inflatable hot tubs.
These are easier to move around and store when not in use. Yet, installing these devices can be a little complex.
This is especially true if anything happens to the inflation hose that comes with the tub.
So, if you're wondering how to inflate Intex hot tubs without a hose, you've come to the right place. In this article, we'll walk you through the inflation process, from unpacking to setting up.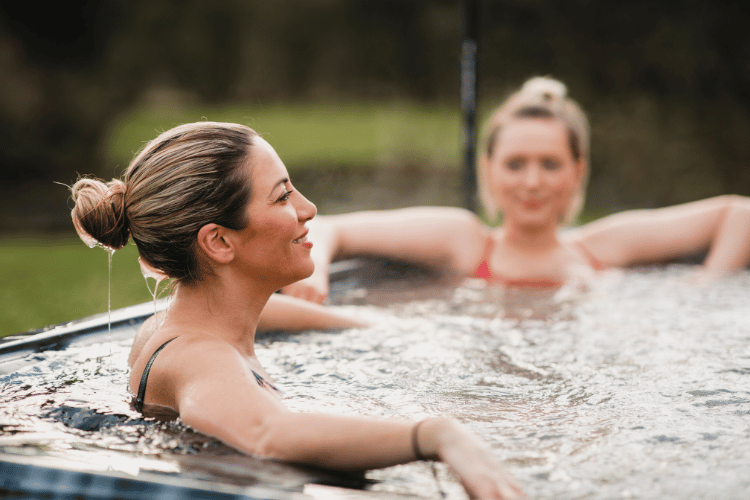 Intex Inflatable Hot Tub Overview
Intex is one of the leading companies in the world of inflatable products. It makes all sorts of items like above-ground pools and air mattresses.
One of the business's best sellers is inflatable hot tubs. They're easy to install and disassemble.
Plus, they're portable. That means you'll be able to move the hot tub when it's not in use.
When you purchase an Intex hot tub, it comes with a high-output automatic air pump. This device can blow up your tub in a matter of minutes.
All you have to do is connect the hose from the pump to the air valve and wait for it to inflate.
Yet, if anything happens to the hose, the inflation process will be a bit more challenging.
How to Inflate Intex Hot Tub Without a Hose
The hose is a crucial part of the Intex hot tub assembly process. It's a hollow tube that'll pump air through the portable spa to help it inflate.
Sadly, this hose isn't all that durable. It's made out of plastic, which is susceptible to punctures and wear and tear.
So, with a damaged hose, air won't be able to flow to the hot tub efficiently. You'll get leaks, which will stop the air pressure inside the tub from increasing.
Yet, even if the hose isn't usable, you can still blow up the device in no time. In this section, we'll walk you through the steps of inflating the hot tub without a hose.
Step 1: Gather Your Materials
To blow up a hot tub without a hose, you'll need a few items. These include:
Power source
Cleaning supplies
With these, you'll be able to inflate the device in a flash.
Step 2: Find the Perfect Location for the Hot Tub
With your equipment in hand, you're ready to find the best location for the hot tub. Ideally, you want a large area with a level surface.
It's also a good idea to avoid rocky terrain. Otherwise, the small stones may damage the exterior of the tub.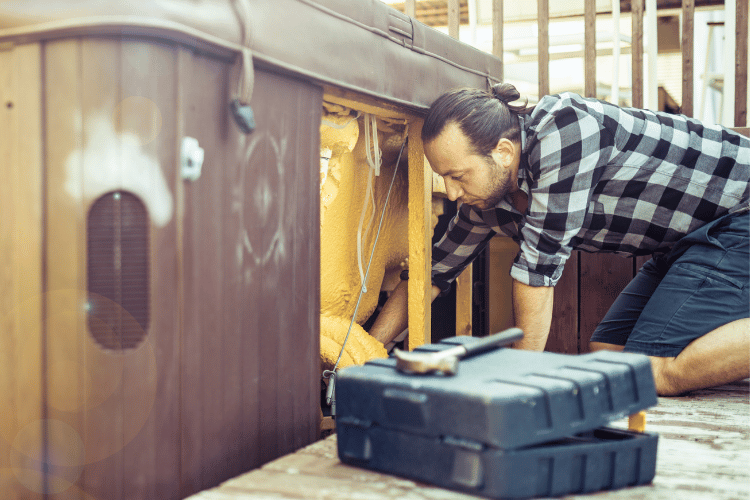 Once you find the area, it's time to break out the cleaning supplies. Start out by sweeping the space and removing any dust, debris, and sharp objects.
After that, using a gentle cleaner, scrub down the entire floor. Lastly, wait for the ground to dry completely before you move on to the next step.
It's important that you remember that the hot tub will stay in place for a while. So, cleaning the floor underneath it will ensure that mold can't grow down there.
To avoid this issue, you may want to invest in ground cloth.
Step 3: Unpacking the Hot Tub
Now that you have a suitable location, you can unfold the inflatable hot tub. This process is simple and self-explanatory.
Yet, there's one factor you should be aware of. As you install the device, pay attention to the orientation of the tub.
There's a digital control panel near the back of the device. You need to plug this into an energy source to operate it.
So, be sure to position it closer to the power outlet. That's when your extension cord will come in handy.
You can use it to power the hot tub, even if it's far away from the main house. Although the extra-long cord can be a tripping hazard.
For that reason, it's best to run it along walls to avoid this issue.
Step 4: Get Rid of Any Wrinkles in the Hot Tub
Once you unfold the hot tub, you'll notice countless wrinkles on the vinyl exterior. Normally, these wouldn't be a big deal.
That's because the air pump that comes with the device is usually incredibly powerful. It'll be able to straighten out any wrinkles without much effort from the user.
Yet, since you won't be able to use this air pump, you need to get rid of any creases. This will make inflating the device easier.
Using your hands, you can smooth out any large wrinkles. If the hot tub is too stiff, you can leave it out in the sun for a few minutes.
The heat will soften the vinyl and make it simple to shape.
Step 5: Inflate the Hot Tub
At this point, you're ready to inflate the device. Grab your trusty vacuum cleaner and plug it into the power source.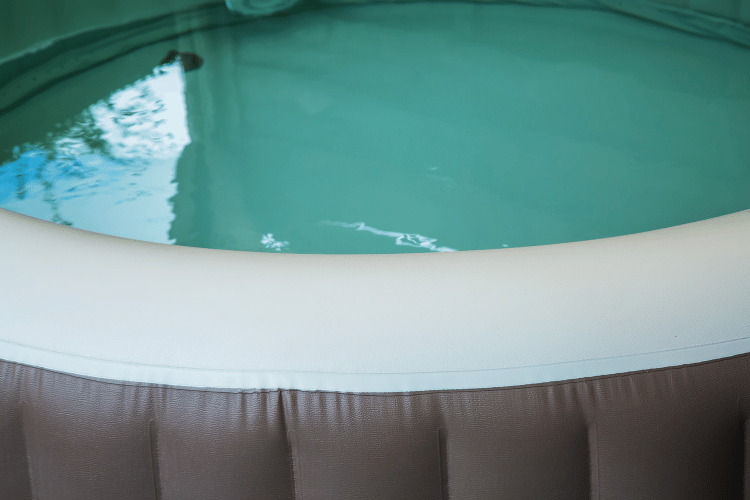 After that, position the hose of the vacuum cleaner over the air valve and secure it in place. To do that, you can use duct tape.
This will stabilize it and stop it from moving. On top of that, duct tape can create an air-tight seal that'll stop air from leaking out.
Next, make sure you turn the vacuum to the blowing settings. Then, turn on the device and wait for the hot tub to inflate.
You can also use a shop-vac instead. This device will usually have a more powerful motor, which means less waiting time.
Other than that, a hair dryer can work as a substitute for the air pump. Yet, you may need to spend a long while next to the tub as it inflates. And if you choose this option, make sure it's set to cold air!
Step 6: Seal the Hot Tub Inflation Valve
As soon as you're done inflating, you can turn the vacuum off. Next, remove the vacuum's hose and duct tape and replace them with the valve cover.
It's best to do this step as quickly as possible. Otherwise, you risk the air pressure decreasing inside the hot tub.
Finally, after you fill the tub with water, spread out the insulated cover on top of the device. This thermal cover will allow the hot tub water to heat up faster. 
Wrapping Up
If you're trying to figure out how to inflate Intex hot tubs without a hose, the answer is to just use a vacuum cleaner that has a blowing function.
If you don't have one, then you'll need to look at getting a replacement hose for your hot tub – it's not something you can inflate manually, after all.
Intex Replacement Hose
Easy to install
Includes two 59″ accessory hoses
30-day manufacturer warranty
Related Posts: