Sleeping bags and inflatable mattresses are both excellent sleeping options for camping and other outdoor activities…
Ideally, you want both – a sleeping bag to keep you warm, and an air mattress to lie on and protect you from the ground – although some people prefer an air mattress with traditional bedding.
But there are some inflatable sleeping bags that essentially do the job of both – keeping you snug and warm, but also working as a mattress so that you're comfortable lying on the ground.
Is it better to buy an inflatable sleeping bag, or get a regular sleeping bag and a separate air mattress? Let's take a look.
What do you need to consider when buying an inflatable sleeping bag or air mattress?
Your sleep needs in the wild differ immensely from your sleep needs at home. But the most important thing to remember is that you can never expect a sleeping bag or an air mattress to offer the same comfort that you get from your own bed.
Still, you want to try to make your camping bed as comfy as possible, since you'll likely be spending your day doing active things – you'll need as much rest as possible. Especially if you're camping with kids who are full of energy.
So there are a few things you should be on the lookout for, regardless of whether you're buying an inflatable sleeping bag or an air mattress:
Size
A sleeping bag or air mattress should be the right fit for you. If you're tall, make sure you get one that's long enough – otherwise, your feet will stick out over the end of a mattress, or your torso will stick out of the sleeping bag.
You also need to make sure that you get one that can properly support your weight, or they'll sag and you may as well be laying on the hard floor.
Warmth
Camping is rarely a warm activity, so you need to choose something that's going to keep you warm enough. With an inflatable sleeping bag, check the season rating to see whether it's designed for winter or summer.
With inflatable air mattresses, you're looking for the R-value, which tells you how good it is at insulating you from the ground. 1.5 and below is good for summer, but in winter you'll need something closer to 4 or 5.
Comfort
It's no good buying something that's warm but feels like cheap plastic – you're hardly going to get the sleep you need. Plus cheaper plastics are noisy – you won't just lose sleep yourself but you'll annoy everyone else in the tent. Look for padded, softer materials (and pay a premium for them – it'll be worth it to avoid daggers in the morning from the rest of your camping party).
Portability
The sleeping gear you have should be easy to move from one place to another. Outdoorsy activities such as camping and hiking involve a lot of movement, and it would be annoying if a heavy or bulky sleeping bag or air mattress slowed you down.
This is a lot easier to check when you're buying in a store, since they normally come 'folded up' and you can see how big they are, and try lifting them. When buying online, make sure to check the dimensions when deflated, and the weight.
What are the benefits of inflatable sleeping bags?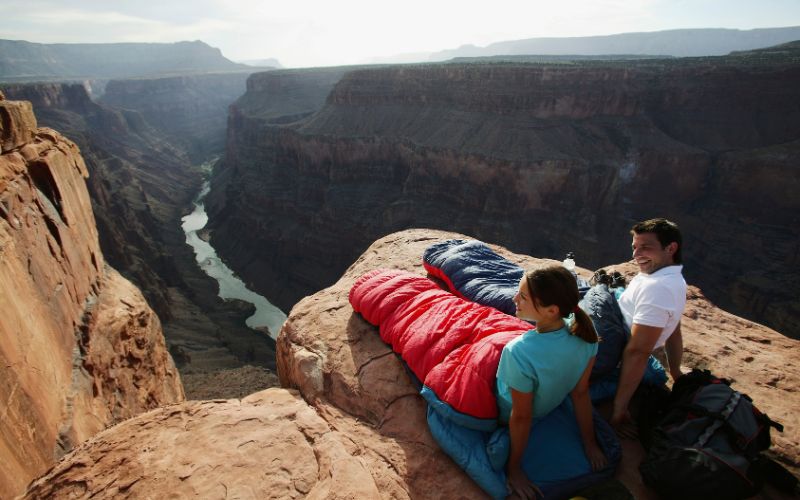 Inflatable sleeping bags are, for most people, a great solution that takes two camping essentials and combines them into one. You get the comfort of a padded mattress, with the built-in bedding and warmth of a sleeping bag.
Sleeping bags offer warmth through synthetic insulation. They're normally designed to either offer partial insulation – good for summer camping, or sleepovers – or full insulation, when you need to be kept warm in the harshest of cold camping environments.
Sleeping bags are designed to stop you needing to use extra bedding, and are either filled with down or synthetic materials. Down sleeping bags are made with fine under feathers from ducks or geese. They are excellent at retaining heat, but they absorb moisture easily. Thus, they are most suited to cold but dry conditions.
Synthetic bags are more common, and are made with poly-fibers. They're cheaper, easier to clean, and require less care than down sleeping bags.
Inflatable Sleeping Bag
Ideal for extreme camping and serious adventures
Packed into a compact carry sack
Inflates super quick and stays in place all night
Inflatable sleeping bags will still contain either down or synthetic fibers, but they also have an inflatable mattress sewn in – you inflate this (manually, or ideally with a pump) and you get an all-in-one solution.
The reasons to pick an inflatable sleeping bag include:
Easier to carry
One of the main reasons to choose an inflatable sleeping bag is that they're much easier to carry – you just need one item. They're a lot better if you're hiking or travelling and need to carry your camping gear with you.
With a separate air mattress, you still need a sleeping bag or other bedding to keep you warm – but an inflatable sleeping bag does everything in one handy, easy-to-carry pack.
Quick to setup
Air mattresses tend to be larger, which means they take longer to inflate than an inflatable sleeping bag. And then, you still need to unpack your sleeping bag and set it up. Sure it's normally only unrolling it, but it's an extra job.
Then, in the morning when it's time to move on, it's another job to roll up the bag and deflate the mattress separately.
An inflatable air mattress won't be as difficult to inflate which means that after a long day of hiking you can be comfortable and snug much sooner.
They take up less space
Air mattresses take up more floor space than an inflatable sleeping bag, so if you're camping with others or you have a small tent, things could get a little cramped.
An inflatable sleeping bag is basically the size of a person, meaning you can fit more of them inside a tent.
What are the benefits of separate air mattresses?
Inflatable mattresses are made with polyester materials and FiberTech. In other words, they are synthetic beds.
Air mattresses need an air pump to work (although you can inflate one without a pump in a fix). You can't inflate them to the required pressure with just your lungs. They are portable and very light, when deflated.
Inflatable beds come in different sizes and weights. For example, there are small ones that can fit only one person and those that can fit up to five people.
Twin Size Camping Air Mattress
Lightweight and compact
Designed for in-home use and camping trips
Non-toxic, waterproof, puncture-resistant PVC bottom to prevent leaking or sliding while sleeping
Air mattresses can be pretty comfortable, but over longer periods of time they may lead to back pain – they aren't really as supportive as a proper mattress. Some inflatable mattresses come with additional supports such as springs, but this makes them a lot less portable and not really suitable for camping.
The benefits of a separate air mattress include:
Better for people who move during sleep
If you're someone who rolls around while you sleep, an air mattress will support you better. With an inflatable sleeping bag, you're held quite snug – and if you roll over, then the inflatable lining may be above you while you're lying on the unprotected ground.
With a mattress, you at least have space to turn over if you need to.
More protection from the ground
Air mattresses are thicker than inflatable sleeping bags, which provides more of an air cushion. If you've had to pitch your tent somewhere where the ground is particularly hard or uncomfortable, an air mattress will give you a much better sleep. With an inflatable sleeping bag, you aren't fully protected from jagged edges or bumps in the earth.
Inflatable sleeping bag vs. separate air mattress – which should you choose?
There's no definitive answer here – it depends on your camping holiday and your personal preference.
For those who are hiking, and moving tent locations regularly, an inflatable sleeping bag is a lot easier to carry around, which either takes some of the strain off your back or frees up space to let you take more supplies with you.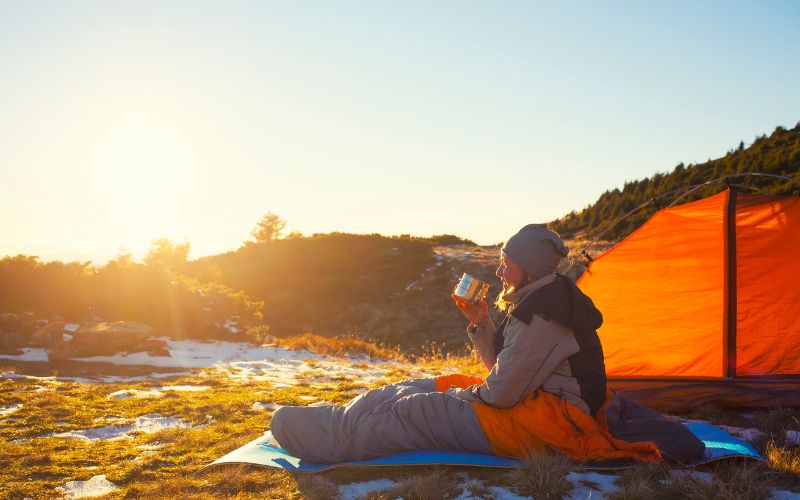 But if you're driving right up to your camping spot, you have the space inside your tent for a larger mattress, and you're someone who tends to move around during sleep, a separate air mattress with a sleeping bag on top will likely be more comfortable.
I wouldn't recommend buying both though – an inflatable sleeping bag on top of an air mattress is just going to be noisy, and there is such a thing as too much padding!
Final word
Inflatable sleeping bags are a relatively new idea and they have some very good uses in certain scenarios, but they aren't a complete replacement for air mattresses. I'd suggest that anyone who is into hiking should definitely consider an inflatable sleeping bag though – they're a clever way of combining all your camping bedding into one.
Related Posts