Summer is here, and you know what that means: hours in your inflatable pool with a refreshing drink ending with a glorious sun tan!
Yet, if this is your first time doing this, you might be wondering what to put under an inflatable pool on grass to protect it from punctures and enjoy a level bottom.
In this guide, we'll help point you in the right direction by listing the best things to put under an inflatable pool. So, let's dive in!
5 Products You Can Put Under an Inflatable Pool on Grass
Thankfully, the market is teeming with such useful items, and so I took the liberty to pick the five best options to review their pros and cons for your benefit.
Here we go!
1. Interlocking Foam Tiles
We know that interlocking mats are often associated with kids' areas in malls, kindergarten classrooms, fitness centers, and gyms. But they can be the most affordable and user-friendly option to use under an inflatable pool!
They'll create an even barrier between the pool and the grass without damaging either. Plus, they're a breeze to put together and take apart, much like dealing with a larger jigsaw puzzle. Even your kids can help you assemble those mats before you place the pool on them.
Better still, interlocking mat tiles take minimum storage space, making them an awesome choice for people who don't have the largest of houses.
Yet, what's not so cool about them is that they aren't as durable as other items you can use under your pool. In a year, or even less, they might become torn. Also, they're prone to disconnecting while you're in the pool.
However, if you're on a budget and you're looking for a quick, temporary fix, then foam tiles are the best option.
Interlocking Foam Tiles
Durable and soft under foot
 Super easy to assemble
The water-resistant design is easy to clean
Pros
Simple and quick to assemble and disassemble
Lightweight and easy to carry outdoors without much effort
Works beautifully with small storage spaces
Available in a wide selection of colors and prints
Affordable price
Cons
Short lifespan in comparison to other options
Subject to tears and damage
2. Pool Pads
Here's something that might be sturdier than a foam mat puzzle: a pool pad that's specifically designed to protect the pool's liner from grass, stones, and the like.
One of a pool pad's best qualities is the material, which is usually thick, woven fabric. With this level of durability, you can expect the pool liner and the pad itself to last for years with minimal wear.
What's even better is that commercial pool pads are widely available on the market, boasting a huge collection of sizes to fit all inflatable pool models. And, even if the pad is bigger than your pool's area, you'll always have the option to cut it with a sharp pair of scissors to make it more suitable for your use.
Still, because high quality equals a substantial leap in price, most pool pads will cost you a hefty sum of money in comparison to what you'll spend on interlocking mats. If you ask us, buying one of those pads can be an investment that we'd be willing to make any day!
Pros
Durable and long-lasting with no chances of tearing or damage
Made of tough, woven fabric to keep bugs, rocks, and grass from puncturing the pool liner
Available in multiple size options to suit all inflatable pool models
You can adjust its dimensions to make it snugger by cutting it to your preference
Cons
Might be pricey for people on limited budgets
A bit challenging to clean because of the thick fabric
3. Tarpaulin
While a little unpredictable, a heavy-duty tarp between your pool and the grass of your lawn can be a great idea. Despite boasting different thicknesses to choose from, a tarpaulin isn't as thick and cushiony as a pool pad. Yet, it's still a viable option to consider.
One of its upsides is that it's waterproof and weather and tear-resistant. So, while it may not give you the padded feel that you might be looking for, it'll still last you a good amount of time so that you're covered for several future summers.
Better still, tarps aren't as expensive as pool pads; their price range lies in the middle ground between pads and interlocking mats.
If their durability and moderate price point work for you, here's my top suggestion…
Waterproof Plastic Poly Tarpaulin
Waterproof, weatherproof, and UV resistant
Can be cut to size
Heavier and more durable than cheap camping-style tarps
Pros
Always available in hardware stores and many online stores
Comes in various thicknesses and sizes to cater to different needs
Doubles as a car cover and protects your surroundings if you're working on a home project
Tear, weather, and water-resistant, increasing its longevity
Moderately priced
4. Carpet Padding
Another creative solution to your pool-on-grass problem is carpet padding. Not only is it found in every hardware store out there, but it's also one of the most budget-friendly options you can use under an inflatable pool.
All you'll have to do is get a roll of this foam padding and cut it into several sheets to lay on top of each other. It's not recommended to use only one layer of carpet padding underneath your pool because it's not thick enough.
Use a minimum of three layers on the grass, and you should increase this number if the ground is littered with rocks.
Protective Cushioning Rug Pad
100% recycled felt made from excess carpet fibers (new, unused carpet)
Protects pool floors from damage
Heavier and denser than most rug pads on the market
Pros
Widely available in various sizes and thicknesses
Versatile enough to allow you to use it on your hardwood and tile floors
Affordable price
Cons
Requires several layers to be ready for placement under your inflatable pool
5. Solid Foam Sheets
Last but not least, solid foam sheets are always a good idea to give you sturdy and even ground under your pool with minimal damage to your lawn. Sure, they're a bit on the pricey end, but people who gave them a shot swear by their quality.
Those sheets come in various thicknesses and dimensions. Yet, the best thing is that you can easily tailor them to the exact size of your pool using scissors or a sharp knife.
Just make sure to shop for an option that's thick enough so as not to be compressed under the weight of a pool filled with water. Your best choice here is rigid urethane foam.
Now, moving on to my top pick:
Pool Wall Foam
Easy to lay
Creates a smooth pool wall
Prevents wall degradation from puncturing your liner
Pros
One of the most durable options on the market
Awesome quality and great value for the price
Easily adjustable to your size of your pool
Why Shouldn't You Put an Inflatable Pool Directly on Grass?
You might simply ask: what's the big deal with placing an inflatable pool on grass without a barrier anyway?
It's a good question, especially since this type of pool seems harmless and fluffy. But looks can be deceiving.
See, the bigger the pool is, the harder the water will be pressing on the bottom pool liner. With grass, concrete, or any form of hard ground underneath, the liner can easily become punctured and leak water without a barrier in the middle.
On the other hand, a kiddie pool can sit on the grass directly with no trouble since it's almost weightless!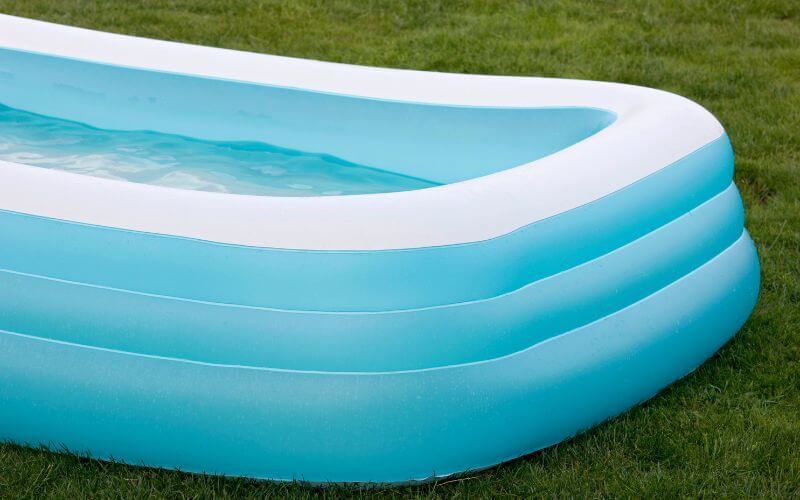 How to Protect Your Grass From the Negative Effects of an Inflatable Pool?
Sadly, even with a protective cover above the grass, you'll likely always end up with a brown patch of grass once you remove the pool. This is because no water, air, or sun can reach the grass when you put the pool over it.
Still, you can minimize the damage by following a few simple tips:
Don't leave the pool on the same grassy spot for more than 12 to 24 hours
Make sure the material of the cover underneath the pool is breathable to prevent the growth of mildew
Always move the pool to different parts of your lawn on a regular basis not to cause big damage to one spot
Consider installing artificial grass in a certain region in your yard so that you can lay the inflatable pool upon it without worrying about killing the grass
Read more: How To Stop Inflatables From Killing Grass
To Conclude
Making up your mind about what to put under an inflatable pool isn't so hard, especially after taking a look at our top candidates.
You can use many things in this situation, including pool pads, interlocking mats, foam sheets, carpet padding, and tarps.
Each one of those has its pros and cons, so make sure you think those through to determine which product will suit your needs best.
Related Posts: