Anyone who uses spray paints for their work or as a hobby will know just how important a clean, empty space is to work – and one with good ventilation too.
Inflatable paint booths are therefore often the ideal option. They essentially give you a temporary workspace that you can use as you need it, sheltered from dust and the elements, but then you can pack it away when you're done.
And they're mobile too – so if your work involves painting larger items (like re-spraying car parts) you could even take your services to your customers.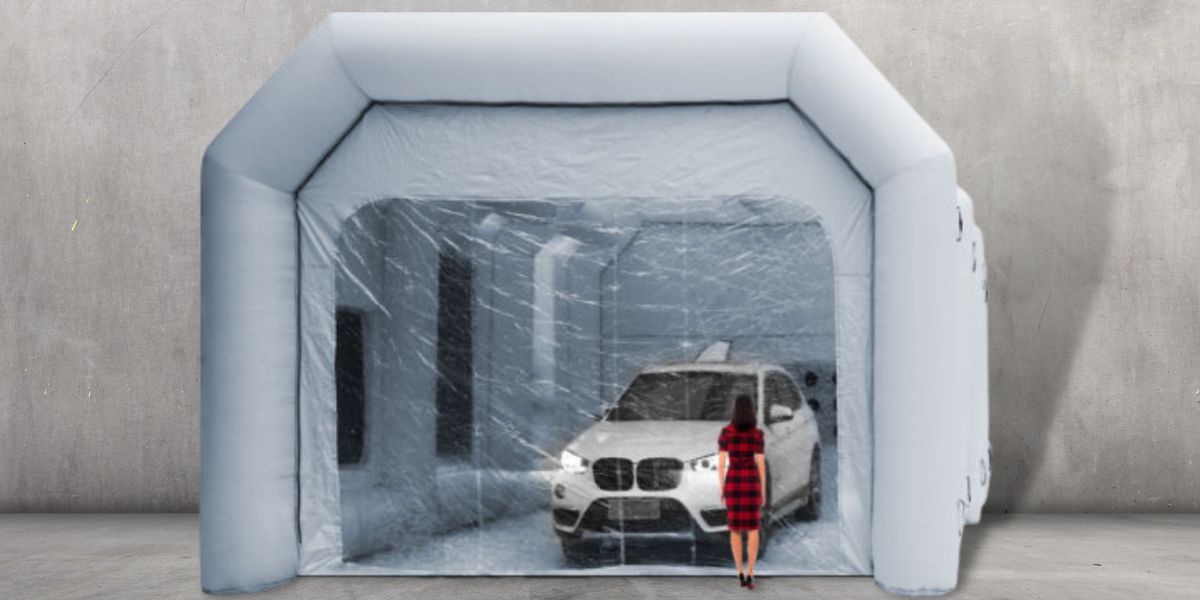 In general, inflatable paint booths are legal, as long as you're using them correctly. There are a number of regulations around how you use them, and safety measures you need to have in place, and if you ignore those then your booth is illegal.
The codes that you have to follow are set by the National Fire Protection Association, specifically NFPA 33, which sets the standards for spray application that uses flammable or combustible materials – which spray paint very much is.
What are the minimum requirements for an inflatable paint booth?
There are several safety codes that the NFPA provides to regulate and monitor spray booths. The guidelines mainly revolve around the design and installation of inflatable spray booths, to make sure they are safe to use.
If you operate a business and you don't follow the NFPA codes then you are liable to be sued, regardless of whether something does actually go wrong.
What are the relevant NFPA codes?
It's worth familiarising yourself with all of NFPA 33 if you're planning on using an inflatable spray booth, but there are some chapters that are particularly relevant.
Chapter 5 provides guidelines on the design, construction, and location of spray areas, spray booths, and rooms. This chapter stipulates the following for inflatable paint booths:
The material used to design and construct the walls, doors, and ceilings that intersect the spray region must be made from non-combustible materials.
The interior surface of the spray booth must be smooth.
There must be a separation between the inflatable paint booth and other regions of operation of at least 915mm.
The chapter also provides guidelines on the requirements of conveyor openings and paint booths using nitrocellulose.
General filter requirements.
Chapter 6 provides guidelines on the requirements and restrictions for electrical wiring and spark-generating materials permitted in a spray booth area. It provides designers with a description of electrical area classification and shows where electrical equipment can or can't be placed.
There should be no presence of open flames, spark-generating equipment, or processes in the spray area, especially those that surpass the auto-ignition temperature, for regions classified as Division 2, Zone 2, or Zone 22.
All electrically-conductive objects in the spray area must be grounded.
Any apparatus or equipment that has the capacity of generating sparks and is located in regions classified as Division 2, Zone 2, or Zone 22 must be totally enclosed to prevent any sparks escape.
Chapter 7 of the NFPA 33 provides guidelines on ventilation, focusing on powder coating systems, make-up air, and recirculated air. Under this chapter, the concentration of vapors in the exhaust airstream should be less than 25% of the lower explosive limit. Furthermore, air exhausted from the spray area should not be recirculated unless certain thresholds are met.
There must be standard particulate filters for any recirculation, and monitoring equipment is put in place to analyze vapor concentration.
Chapter 8 looks into the handling, storage, and distribution of combustible and flammable liquids. It states that the mixing room must conform to the construction guidelines of chapter 5. Furthermore, the mixing room should be less than 14 m. ETC.
Chapter 13 of the NFPA 33 code on spray booths is about heating systems used to dry and cure paints. The chapter states that when the booth is used for drying at a temperature that is not more than ambient conditions, the concentration of any vapor in the exhaust stream should be less than 25 percent of the lower explosive limits.
Secondly, if the temperature in the spray booth is increased to accelerate drying, booths must meet the requirements of the NFPA 86 and those specified under 13.3.1.1 up to 13.3.1.8.
Chapter 15 looks into the requirements for powder coating applications. It outlines the general safety and protection protocols and processes. It also states that the inflatable paint booth must be fitted with a portable fire extinguisher.
Lastly, it recommends that there be protective measures against explosions and dust. It offers recommendations on emergency shutdown, ventilation systems, and automation sprinkler systems.
How much is a portable paint booth?
Inflatable paint booths vary in cost quite dramatically since they can be quite small, for single items, right up to massive booths where you could spray paint an entire car. Proper spray paint booths normally cost between $500 and $3000.
Don't buy something cheap and unsuitable – it's not just breaking the law if it doesn't stick to code, but it's putting your life at risk as well. Spray paint is not a toy.
Final Thoughts
Generally, inflatable paint booths are legal. You just need to make sure you stick to the regulations set out by the NFPA to keep yourself safe.
Don't take shortcuts, as spray paint is combustible in a pressurised can and is dangerous if you don't follow the proper precautions.
Related Posts: