Intex is one of the biggest brands in the kayak world, particularly when it comes to inflatable models. If you're in the market for a reliable inflatable kayak that won't break the bank, Intex is the way to go.
Two of the most popular inflatable kayaks from Intex are Sierra K2 and Explorer K2. Choosing one of them can be pretty tricky as both models look alike (except for the color), have the same capacity, and cost almost the same.
Today's Intex Sierra K2 inflatable kayak vs Explorer K2 comparison will explain the similarities and uncover the differences to help you decide on the right inflatable kayak for your needs and budget.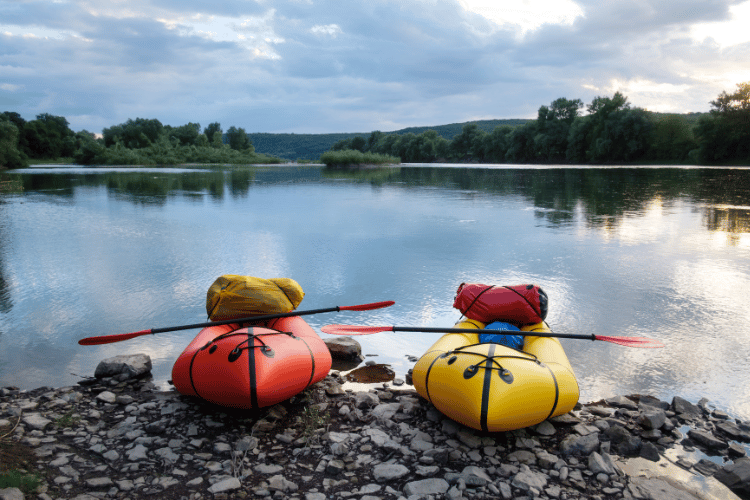 Size and Weight
Choosing the size for your inflatable kayak depends on your requirements regarding the number of people you want aboard, the amount of space you need for your gear, and the level of comfort you expect to experience.
The Sierra K2 measures 123 inches long, 36 inches wide, and 20 inches high. As for the Explorer K2, it's 123 inches long, 36 inches wide, and 21.6 inches high.
So all in all, Sierra K2 and Explorer K2 have almost identical dimensions.
Construction and Appearance
Durability is probably the top concern for folks interested in inflatable kayaks. However, that's something you don't need to worry about with Intex models.
Designed for venturing into mild rivers and lakes, both Sierra K2 and Explorer K2 are made out of anti-puncture materials to ensure durability while providing rigidity and comfort.
They're constructed using SUPER TOUGH™ PVC (polyvinyl chloride) for dependable protection against impact, abrasion, and sunlight. They also feature an inflatable I-beam floor for added stability.
Although the material is seemingly identical, the walls of the Explorer K2 feel a bit thicker, which may explain its slightly higher price.
Both inflatable kayaks are designed to accommodate 2 people. They come with inflatable seats that you can move around the kayak or remove altogether.
The seats of both models have a backrest and feel comfortable when sitting. The only noticeable difference between them is that the seats of the Explorer K2 are dark gray on the back and lighter gray on the front, whereas the Sierra K2 seats are light gray all over.
You may also feel that the buckles used for attacking the seats to the kayak are a bit more secure/tighter on the Explorer model.
Appearance-wise, the Sierra K2 and Explorer K2 look similar but with different colors. The Sierra is yellow and orange on the outside, while the Explorer is yellow and gray.
Weight Limit
The similarity theme appears again when comparing the maximum weight capacity of Intex Sierra K2 vs Explorer K2.
The Sierra K2 is designed with a maximum weight capacity of 400 pounds or 180 kg. The Explorer K2 offers the same maximum weight limit, which is enough to accommodate 2 adults.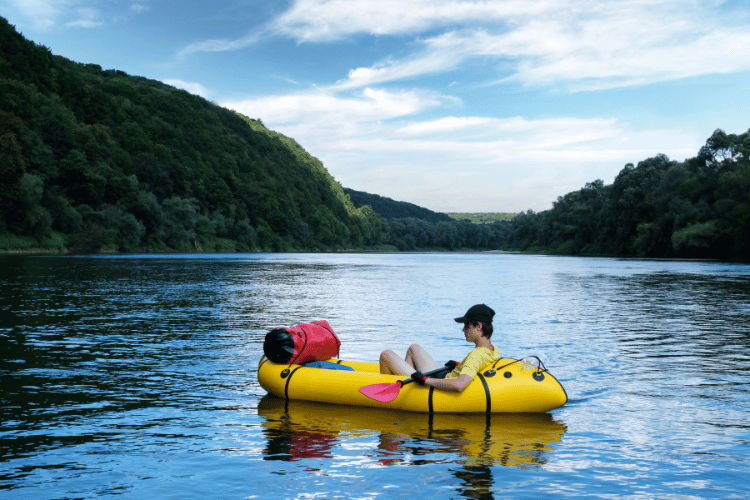 Most inflatable kayaks are built to support a lot of weight, but you should never assume that your model can handle a certain weight without checking beforehand.
Features
Now that you're familiar with the size, design, weight limit, and construction materials of Intex Sierra K2 vs Explorer K2, let's take a closer look at a few of their features:
Air Chambers
The durable construction of Sierra K2 and Explorer K2 offers reliable protection against heavy impacts and sharp obstacles. They're anti-puncture but not invincible, which is why the extra security of having multiple air chambers is much appreciated on inflatable kayaks.
If one of the chambers gets pierced, the other compartments help keep the structure afloat by holding the rest of the air inside.
The Sierra K2 and Explorer K2 inflatable kayaks feature 3 air chambers each.
Grab Handles/Grab Line
To provide more stability and help passengers feel secure, both Sierra K2 and Explorer K2 are equipped with a grab handle and a grab line on the front and rear ends. This means that each model has 2 grab handles and 2 grab lines.
Fin/Skeg
Both Sierra K2 and Explorer K2 come with a removable skeg that goes on the underside of the vessel. Clipping in the fin provides better control and maneuverability for your kayak.
Accessories Included
When you buy the Sierra K2 and the Explorer K2, the box will include the following accessories for your convenience:
High-Output pump
Two 86-inch aluminum paddles
Carry bag
Repair patch
Fin/skeg
Setup
Setting up the Sierra K2 and the Explorer K2 is a hassle-free task, even if you're a beginner. The included air pump is more than capable of getting the job done, which takes about 10 minutes for each model.
You'll notice that the pump-up valves on the two kayaks are located on opposite sides. This is one way to differentiate between them.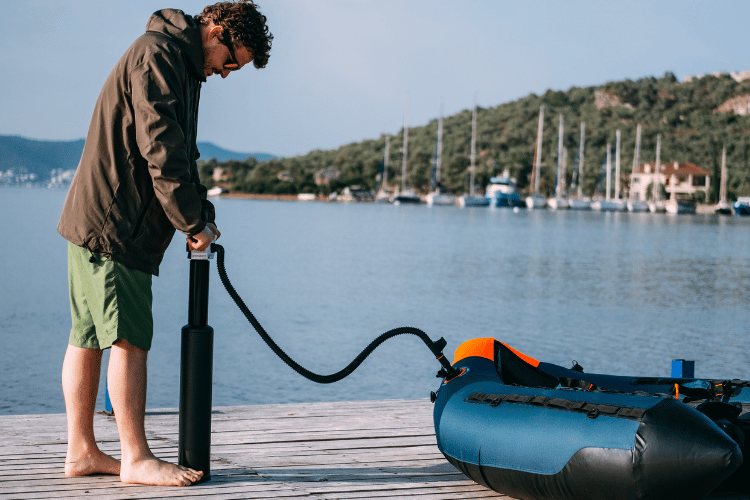 Performance
The Sierra K2 and Explorer K2 are designed to experience calm waters, such as lakes and mild rivers. As long as you know what to expect from them, you won't feel disappointed by their performance.
Both models are easy to direct, but they sink a lot with 2 adults, so be prepared for some drag. While they aren't ideal for tracking, they're super enjoyable for cruising.
Portability
Both Sierra K2 and Explorer K2 weigh approximately 35 pounds, which makes them quite portable. They're also easy to fold, so carrying and storing them is a breeze.
Warranty
For the Sierra K2 and the Explorer K2, Intex offers a decent warranty period of 90 days. It's not very long, but it's enough to give you peace of mind and discover any manufacturing defects.
It also helps that Intex's customer service is quite helpful. Contacting the seller or manufacturer with your purchase information is all you need to do to receive the required repair.
Wrapping Up: Which Inflatable Kayak Is Right for You?
This Intex Sierra K2 inflatable kayak vs Explorer K2 comparison shows how similar these models are.
For pretty much the same price, it makes more sense to choose the Explorer K2. It has everything the Sierra K2 offers, plus a somewhat thicker material and less flimsy seat buckles.
Related Posts: