Kayaking is an incredible sport with many excellent health benefits. For starters, it's a full-body workout that can help you stay in shape.
Besides that, you enjoy stunning views as you sail away into the sunset. Yet, there's one major drawback to the sport.
Rigid kayaks are usually heavy and difficult to store. That's why many people rely on inflatable kayaks.
Two of the most popular models are the Intex Tacoma and Intex Explorer. Both of these boats are durable and easy to carry around.
So, if you're interested in a comparison between Intex Tacoma vs. Explorer, you've come to the right place. In this article, we'll walk you through the features of each inflatable kayak.
We'll also cover the differences and similarities between the two floating devices.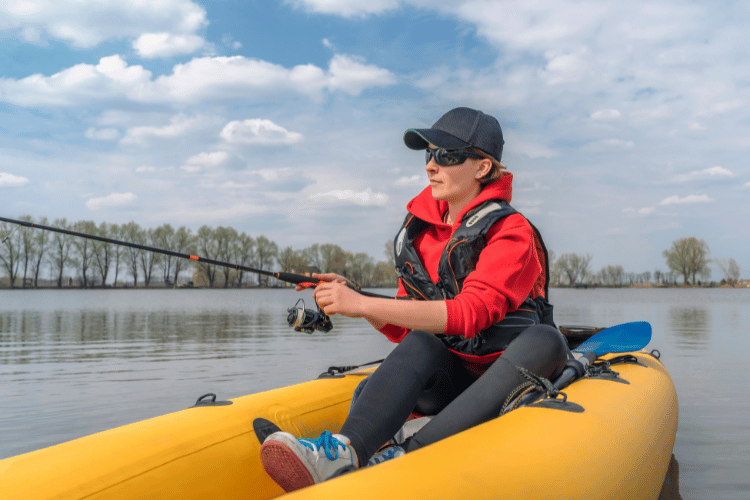 Intex Tacoma Overview
The Intex Tacoma is a spacious inflatable kayak that can comfortably fit two people. Each one of the adjustable seats comes with back support.
This will help you maintain the correct posture as you paddle. Other than that, the outer shell of the boat is tough and resilient.
It can handle a lot of wear and tear, which is crucial if you plan to kayak regularly.
Besides that, the vessel has high-buoyancy side chambers. These additions increase the kayak's stability and allow you to float on the water's surface.
Specifications
Length: 23.8 in.
Width: 16.25 in.
Height: 13.75 in.
Weight: 34.4 lb.
Weight capacity: 400 lb.
Number of separate air chambers: 3
Features
There are a few features that help the Tacoma stand out. For instance, it comes with a removable skeg. This will give you greater control of your heading.
Other than that, the kayak comes with a detachable tote bag. It's quite roomy and can keep your belongings safe from any water splashes.
Finally, this inflatable kayak has a low-profile deck to enhance stability.
Pros
One of the most durable models on the market
Extremely accurate directionality
Compact and easy to store
Cons
Outer shell is vulnerable to sharp objects
Isn't suitable for all weather conditions
Intex Explorer Overview
The Intex Explorer is another popular two-person tandem kayak. It's incredibly durable and can handle a variety of weather conditions.
That's mostly due to the sturdy outer shell.
On top of that, this vessel is exceptionally stable. Because of its low center of gravity, the boat can float seamlessly on the water.
Aside from that, the inflatable seats in the kayak are completely adjustable. That means you should be able to position them any way you like.
This makes the kayak much more wheelchair accessible.
Specifications
Length: 23.2 in.
Width: 17.5 in.
Height: 13.5 in.
Weight: 36.7 lb.
Weight capacity: 400 lb.
Number of separate air chambers: 3
Features
When it comes to features, the Intex Explorer has many exceptional qualities. First up, this kayak comes with two aluminum paddles.
These rods are lightweight and easy to drag across the water.
Other than that, the Explorer comes with a repair patch. This means you'll be able to fix your boat while you're on the go.
Lastly, the vessel comes with a grab line on either end. That'll make securing the kayak in position a walk in the park.
Pros
Easy to inflate and deflate 
Integrated skeg improves directional stability
Seats are adjustable to accommodate people of all sizes
Cons
Directionality can use some improvement
May not be suitable for rough seas
Intex Tacoma vs. Explorer
Choosing the perfect kayak for you can be tricky, especially if you're new to the sport. So, in this section, we'll help you make a decision.
We'll compare the Tacoma and Explorer to make picking out an inflatable kayak easier.
1. Dimensions
The first aspect we'll compare is the size of each of the kayaks. If you look back at the specifications of the two vessels, you'll notice that they're quite similar.
Although the Explorer is slightly wider. This means it'll be more stable when floating on water.
That's because its center of gravity will be slightly lower than the Tacoma.
Moving on, the Tacoma is a bit longer than the Explorer. So, you'll have a little more legroom to get comfortable.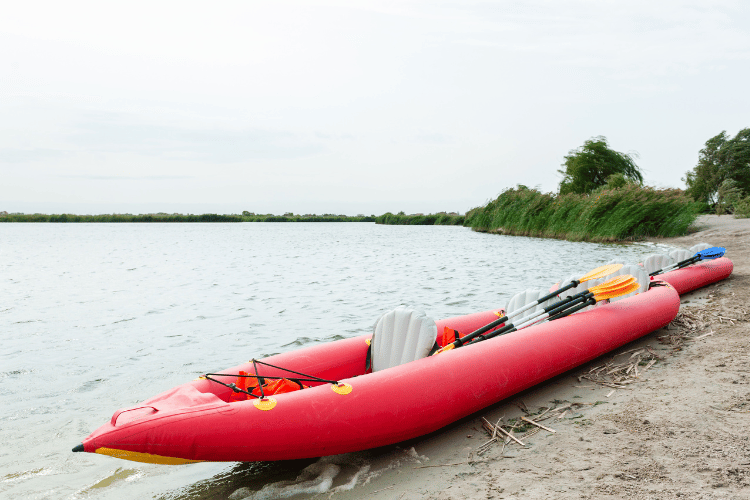 This makes it perfect for tall individuals.
Finally, the Explorer is a tad heavier, though with a difference of only around 2lb, it won't make it much harder to carry around with you.
2. Construction
When it comes to construction, the two kayaks are on equal footing. In fact, at first glance, they look identical if you don't take the color into account.
Right off the bat, you see that the boats are large enough to fit two adults. Plus, both vessels come with an inflatable l-beam floor for rigidity and comfort.
Besides that, they have Boston valves to ensure that the inflation process is a breeze.
However, there's one major difference in construction between the Tacoma and Explorer. This is in the material of the outer shell.
The Explorer has a PVC vinyl exterior, while the Tacoma has a polypropylene surface.
3. Durability
The structure of the Explorer is similar to that of the Tacoma. The internal frames are rigid and can handle a great deal of force.
However, PVC vinyl is somewhat more resilient than polypropylene. Because of that, the Explorer is a little more durable.
The exterior will be able to withstand all sorts of abrasions. For instance, it can resist blunt sticks, rocks, and even wood splinters.
Yet, this doesn't mean that the outer shell is impervious to damage. Sharp objects can still pierce through the exterior and allow air to escape. 
On top of that, the Explorer comes with a repair patch. That means this kayak will be much easier to fix. For that reason, it can last a bit longer than the Tacoma.
4. Air Pumps
Air pumps are an essential tool when dealing with inflatable kayaks. Without them, it can take several hours to blow up your vessels.
Thankfully, Intex takes this into account when shipping out its kayaks. That's why each boat goes out with an Intex high-output pump.
This will cut down inflation time to a few minutes.
Besides that, the Tacoma and Explorer come with Boston valves. That means you'll be able to screw the double-action pump directly into the opening.
Not only will this make blowing up the kayaks easier, but it'll also reduce the chances of air leaking out.
5. Portability
One of the main advantages of inflatable kayaks is that they're easier to transport. Luckily, both the Tacoma and the Explorer are completely portable.
When deflated, you can fold up the vessels into compact packages. This will make storing the kayaks a cakewalk.
When inflated, both kayaks have similar portability. They have grab handles on either end to make pulling the boat out of the water more manageable.
6. Accessories
The Explorer and Tacoma come with a few accessories to make using the boats easier. For starters, they both arrive with an air pump to help with quick inflation.
Other than that, the vessels come packaged in a tote bag to aid with transportation. Although, you can also use the container to hold your belongings while out on the water.
Plus, the Explorer and Tacoma come with 86-inch aluminum oars. These paddles are quite polarizing.
Some customers love them and think they're the ideal tool for kayaks. Yet, a few clients feel like the oars are a little short and wobbly.
Finally, if you don't particularly enjoy paddling, you can attach a motor to either kayak.
7. Speed
There are many factors that'll affect the speed of a kayak. For starters, the paddles will play a major role.
Yet, since the Tacoma and the Explorer have the same oars, they can both achieve similar speeds.
Other than that, the Tacoma has a longer hull. This means that it'll be able to glide faster over the surface of the water.
Plus, it's a bit lighter than that Explorer, which gives it another boost in speed.
8. Directional Stability
When kayaking, it can be difficult to maintain a specific direction. Any changes in the wind or water current can end up knocking you off course.
The Explorer and the Tacoma are stable boats, but steering them can be challenging. Even experienced kayakers have some trouble keeping the vessels steady.
That's why skegs are crucial. These are removable fins that can help improve the directional stability of a kayak.
While the removable skegs on both boats are the same, they don't perform identically. On average, you'll notice that you have to correct the Tacomas path a little more often.
9. Comfort
When it comes to comfort, you won't find many differences between the Tacoma and Explorer. Both vessels have a soft interior that can cushion you as you travel on the water.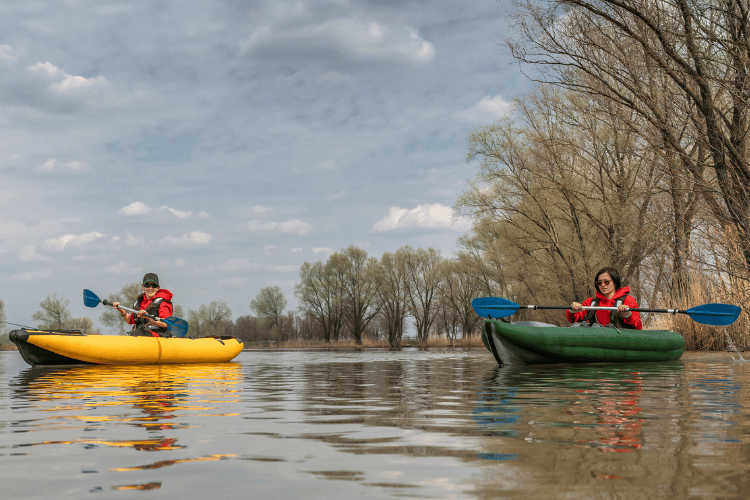 Aside from that, the adjustable seats in the two kayaks are practically identical. They're adjustable and can provide passengers with similar back support.
Moving on, since the Explorer is a bit more stable, some people find it more comfortable. It won't sway as much on the surface of the water.
That makes it ideal for people who suffer from motion sickness. 
10. Splash Guard
If you've ever been on a kayak, you know that splashing is unavoidable. No matter how calm the water is, you'll likely get wet at some point.
To control this issue, the Explorer and the Tacoma come with splash guards. Their bows and sterns have an elevated lip that's meant to keep the interior dry.
Although, these structures aren't all that effective. The guards can successfully repel small splashes.
Yet, as you change directions, it'll be tough to keep the water out of your boat.
11. Assembly
The assembly process of the Explorer and the Tacoma is relatively simple. You start out by unpacking and unfolding the kayaks onto a flat surface.
Ideally, you should do this outdoors on the floor.
After that, grab your trusty air pump and inflate the vessel. This step should only take about five to eight minutes.
Next, with your kayak fully inflated, it's time to place the seats in position. Take your time during this step.
Make sure that you adjust the seats to match your preferences. Once that's done, your kayak is ready for the water.
12. Color
Arguably, the most notable difference between the two kayaks is their shades. The Tacoma comes in a subtle blue color, while the Explorer's exterior is a vibrant yellow color.
Most people think this is a matter of preference. Although, that's not the case.
The Explorer's yellow color makes it the safer option. That's because you can spot the bright hue from miles away. 
Even when it's pitch black outside, you should be able to locate your kayak.
On top of that, other boats will be able to see the yellow color much clearer out on the water. This, in turn, will reduce the chances of an accident.
13. Cost
Inflatable kayaks are generally more affordable than hard-shell vessels. You can clearly see that in the cost of the Tacoma and the Explorer.
You can buy either one of these kayaks for a couple of hundred dollars. This is a major reduction in price since hard-shell boats sell for thousands of dollars.
Yet, the Explorer is slightly more expensive. This is probably due to the increased stability.
Plus, it may be a result of the tougher exterior.
Wrapping Up
If you want to compare Intex Tacoma vs. Explorer, we can help you out. For starters, both of them are inflatable kayaks with excellent durability.
Yet, the Explorer is a bit more resilient and stable. Moving on, the Tacoma is longer and narrower.
This will negatively impact stability, but it'll give you more legroom to move around. That makes it ideal for tall rowers.
Moving on, because of its longer hull, the Tacoma is slightly faster. Although, if you're paddling, this shouldn't be all that noticeable.
Finally, when it comes to cost, the Explorer is on the pricier side.
Related Posts: