Inflatable kayaks are easy to use and fairly durable boats. Families with children or solo paddlers all enjoy these lightweight kayaks.
You may be wondering whether these inflatable boats are durable or if you risk puncturing them while enjoying a day out on the water.
Let's take a look at some common questions surrounding inflatable kayaks.
Do Inflatable Kayaks Pop Easily?
Modern inflatable kayaks are mostly puncture-resistant and are unlikely to puncture when touching an object. Of course, these kayaks are not nearly as durable as fiberglass kayaks, but they can withstand tough conditions, pokes, and abrasions.
Some inflatable kayaks are dog friendly, so they're tough enough not to be punctured by canine claws.
So, are inflatable kayaks durable? Although these kayaks are hardy, when something sharp enough is applied with enough pressure, the kayak can be punctured.
But, can your inflatable kayak sink? A cheap inflatable kayak is more likely to pop or be punctured, however, it is unlikely that you will be left without a boat should it suffer a puncture.
Intex Excursion Pro Kayak
Lightweight and highly resistant to damage from abrasion, impact, and sunlight
3-ply super tough PVC that is unaffected by gasoline, oil, and salt water.
High-pressure inflation provides extra rigidity and stability
Best Kayak Guides:
Are Inflatable Kayaks Safe In The Ocean?
Inflatable kayaks are made of durable materials, are comfortable, and are fairly rigid, making them as safe as a hard shell kayak to use in the ocean.
You should always take caution while out on the ocean, and if kids are planning on using the boat, make sure to give them some inflatable kayak safety tips beforehand.
Read more: Are Inflatable Boats Safe On The Ocean?
What Are Inflatable Kayaks Made Of?
Inflatable whitewater kayaks are made of PVC and other highly durable materials that are drop-stitched together and are used to prioritize inflatable kayak safety.
Some higher-end inflatable kayaks are made of Hypalon or Nitrylon – a newer material that is more durable than PVC.
What Is The Most Durable Inflatable Kayak?
Kayaks made from Nitrylon are the most durable – if you're looking for a puncture-proof inflatable kayak, this material is what you should choose.
Inflatable kayak durability will depend on the quality of your kayak and how well you take care of it. So, how long do inflatable kayaks last?
Most inflatable kayaks can be used for five to ten years, although a heavy-duty inflatable kayak made with thick-coated materials will possibly last much longer.
You should use an inflatable boat cleaner each time you use your kayak, and make sure to store it in a dry area to prevent damage to your boat when you are not using it for whitewater kayaking.
How Do You Fix A Punctured Inflatable Kayak?
You can use an inflatable kayak puncture repair kit to fix your kayak until you can get to a professional if the damage is extensive.
Once you notice a puncture, allow the boat to partially deflate without increasing the hole where the air leak is occurring. Dry the areas around the hole, and use a patch to cover the puncture. Using tape, cover the patch completely, and wait until the patch and adhesive tape are completely dry before inflating the boat.
PVC Repair Patches for Inflatable Kayaks
Use to repair cuts and holes in inflatable kayaks
Made of good quality PVC
Sturdy, waterproof, safe, and durable.
Easy to use
Can cut to smaller size as needed
Read more: How To Fix A Hole In An Inflatable Boat
What Are The Pros And Cons Of Inflatable Kayaks?
Pros
Easy to transport
Good for whitewater adventures
Durable
Lightweight
Cons
Less durable than hardshell kayaks.
Cannot be used for fishing as fishing hooks can damage the boat
Slower than other kayaks
Difficult to stand up in because of how the air chambers are distributed.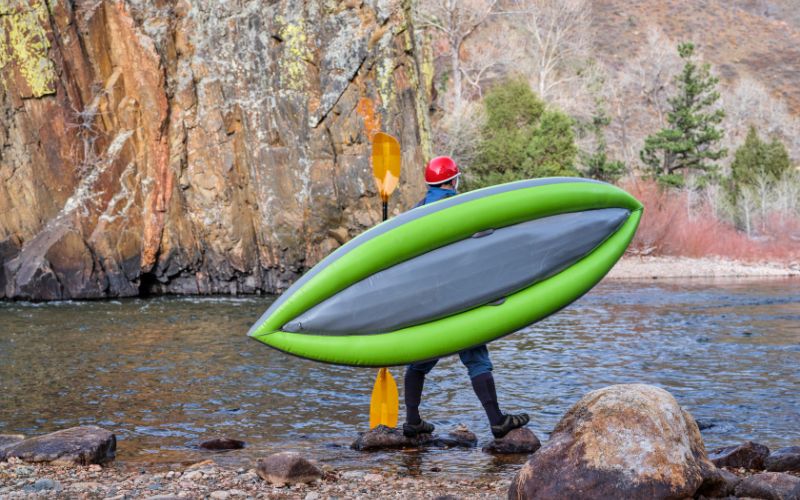 Final Thoughts
Inflatable boats are great for outdoor adventures. These kayaks are durable and easy to transport and can be enjoyed by the whole family because of their safety and ease of use.
Although manufacturers of inflatable kayaks do not promise that these boats cannot be punctured, most modern kayaks are extremely durable and resistant to punctures and abrasions.
So, if you and your family are looking for a fun activity to do together, then inflatable kayaking is just the thing for you.
Related Posts: