If you intend to have inflatable Halloween decorations for the fall or inflatable Christmas decorations for the winter, it could well be inevitable that they'll get wet with rain or snow at these times of year (depending on where you live).
So you may be concerned about whether or not it's safe for outdoor inflatable decorations to get wet. In this article, I'll guide you through whether inflatable decorations can safely get wet, and what you should do to dry them out if they do.
Can Inflatable Decorations Get Wet?
Outdoor inflatable decorations can get wet, as they tend to be made of water-resistant material, such as nylon or similar synthetic materials. Even though light rain or snow won't hurt your inflatable outdoor decorations, you should avoid leaving your outdoor inflatable decorations out in heavy rain or snow.
But beware, even though inflatable decorations can get wet without causing any problems, one thing to note is that you shouldn't deflate your inflatable decorations while they're wet, as water can collect in the folds, which could lead to the growth of mold, which, in turn, can damage your inflatable decorations.
Suggested read: How To Clean Mold Off A Bounce House
Can You Put Inflatable Decorations Away Wet?
You shouldn't put inflatable decorations away wet. This is because mildew and mold may develop on your inflatable decorations, which can damage them, as well as posing potential health risks. You should make sure you dry out your inflatable decorations before you store them away.
Therefore, when considering how to store inflatable decorations, the first thing to do is to ensure that your inflatable decorations are dry. That's all well and good, but what if your inflatable decorations got wet while outside?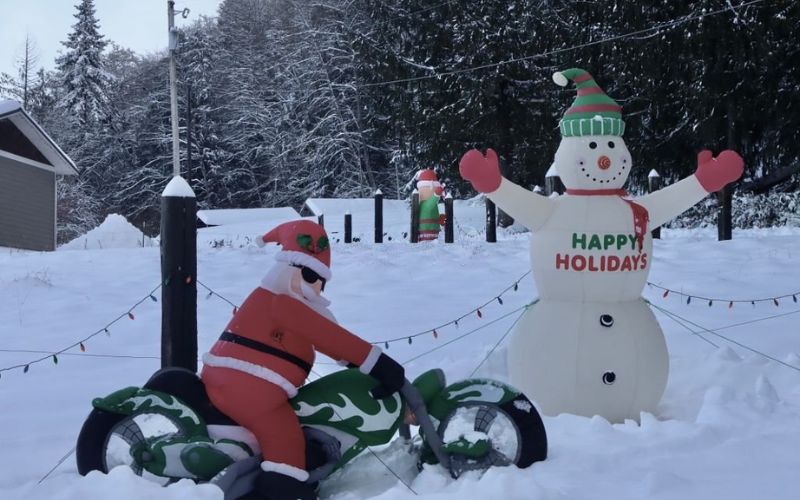 How to Get Water out of Inflatable Decorations
If you get a lot of warm sunshine where you live, the simplest way to get water out of inflatable decorations is to leave them inflated and let nature take its course, allowing the sunshine to dry off your inflatable decorations before you take them down and store them away.
But not everyone's lucky enough to live somewhere hot – I'm certainly not! So sometimes nature needs a little helping hand. If that's the case where you live, then I recommend the following easy methods to dry out your inflatable decorations…
If there is water inside inflatable decorations, then before you deflate them, give them a good going-over with a towel. If you make sure you use an absorbent one, you should get most of the moisture. You can then finish the job with paper towels, which do a better job of collecting moisture from the plastic surface.
However, if there seems to be hard-to-reach water on or in your inflatable decoration, then gently blowing it dry with an air compressor is what I'd recommend, as doing so will help you to blow those harder-to-reach nooks and crannies dry.
KOONIE Cordless Air Duster
Powerful air compressor
Fast charging
Lightweight and easy to use
How to Store Inflatable Decorations
Before I say anything else on how to store inflatable decorations, there's one thing I can't stress strongly enough – be sure to keep the original packaging that your inflatable decorations came in. This will make storing your inflatable decorations so much easier!
I just hope that advice hasn't come too late. But if it has, don't panic. You'll just need to find another box and a bag big enough in which to store your inflatable decorations instead. This will work just as well for storing your inflatable decorations.
It's important to store inflatables inside a plastic bag and not just a cardboard box, because this protects them from humidity in the air. Even if you've dried your inflatable, mold can grow if you don't secure it properly.
So inside a plastic bag for moisture protection, and then a box to give it extra protection from sharp objects you store it near.
Does the Size of my Outdoor Inflatable Decorations Make a Difference?
When it comes to getting inflatable decorations wet, size doesn't matter – the only difference is how much effort you have to go to in order to dry it!
My advice applies to outdoor inflatable decorations of all sizes, whether they be giant inflatable decorations or smaller inflatable yard decorations. So don't think that you can leave smaller decorations wet, because they're only small.
Water can still collect on smaller inflatables, so mold could still form, damaging your decorations. Therefore, whatever size your outdoor inflatable decorations may be, don't put them away when wet and you'll minimize the chance of damaging them with mold.
And if you have a giant inflatable, and the weather isn't helping you dry it naturally… you may want an extra towel. Good luck!
To Sum Up…
There are several methods you can employ to dry out inflatable decorations. It's fine to let them get wet, but they should be dry when deflating, and when stored. Perhaps the simplest way to dry out your inflatable decorations is to simply leave them in the sun while still inflated.
If the weather isn't warm enough, other methods are blowing them dry with an air compressor while inflated, or deflating them and giving them a thorough drying off with a towel. And when storing your inflatable decorations, be sure they're dry, then store them in their original packaging, if possible.
Related Posts: