Inflatable decorations certainly provide a great way to make the outside of your home look really joyful and colorful.
They're ideal no matter what the occasion and they look so amazing that once you've installed them it can be tempting to want to leave them on all day and night.
However, you may be wondering whether or not it's safe for you to leave your outdoor inflatable decorations running 24/7.
In this guide, I'll explain whether it's safe, and anything you need to take into consideration.
Can You Leave Inflatable Decorations on All the Time?
You can't leave your inflatable decorations on all the time. It's recommended that you unplug your inflatable decorations at night, and you should only leave them on for up to eight hours continuously. You should also consult the manufacturer's instructions to see if they offer any specific guidance.
The above advice applies to all outdoor inflatable decorations, including inflatable yard decorations and giant inflatable decorations. It also applies at all times of the year, which means that it applies to inflatable Christmas decorations and inflatable Halloween decorations, and, indeed, to outdoor inflatable decorations for all types of celebration.
What Would Happen if I Did Leave my Inflatable Decorations on All the Time?
If you left your inflatable decorations on all the time you'd reduce their lifespan. This is because the fan will burn out, and stop working. Fans are only designed to be used for a maximum of eight hours at a time, otherwise, they can overheat, which wears down the parts.
Nobody wants inflatable decorations to deflate unexpectedly due to the fan burning out due to being on for too long, resulting in sagging Santas for inflatable Christmas decorations, or sagging Satans for inflatable Halloween decorations.
The lifespans of your inflatable decorations would reduce because the fan in your inflatable decorations would be on for longer, so they would wear out quicker, which then means that you'd need to replace your inflatable decorations or buy replacement fans, costing you money either way.
You'd also be using more electricity if you leave your inflatable decorations on all the time, which will also cost you money. So, if nothing else, leaving your inflatable decorations on all the time isn't a very smart idea from a financial point of view.
There are no reported safety issues with leaving inflatable decorations on all the time. Even if the fan does overheat, it shouldn't be enough to cause a fire hazard. But they definitely won't last as long if you do, so I must strongly advise against leaving your inflatable decorations on all the time.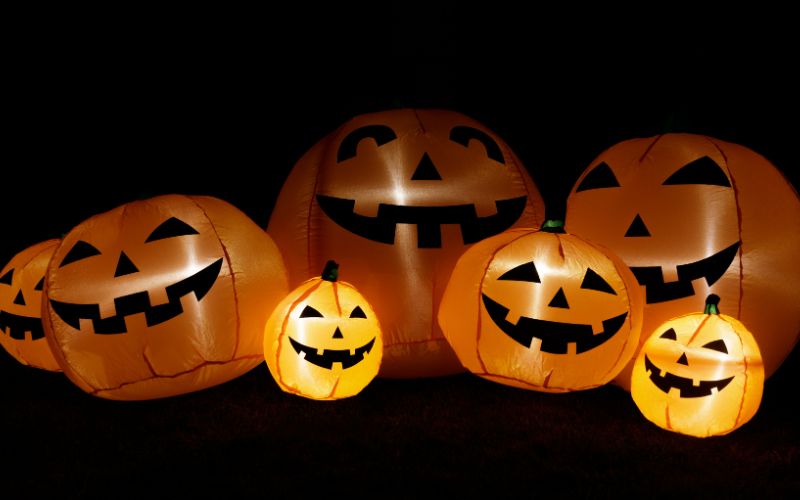 Can You Leave inflatable decorations in the Rain?
You can generally leave inflatable decorations out in light rain, but do note that inflatable decorations should only be deflated when dry. So, if heavier rain or snow is forecast, deflate your decorations in advance. Then bring them inside to protect them from the rain or snow.
Read more: How To Dry Out Inflatable Decorations
Yes, you can leave outdoor inflatable decorations in the rain, as light rain or light snow shouldn't harm your inflatable outdoor decorations. And considering how changeable the weather can be at the times of the year when you'll have inflatable Halloween decorations or inflatable Christmas decorations, that's definitely a good thing!
I hope that this will put your mind at ease about erecting inflatable yard decorations at these times of the year. But one thing to be aware of is that it's preferable that you don't deflate outdoor inflatable decorations while they're wet, if you can avoid it.
You should try not to deflate inflatable decorations when wet because, as with all inflatables, water could easily collect in the folds of your decorations as they deflate. If the water then remains in the folds for more than 24 hours or so, mold could grow upon your decorations.
Mold on your inflatable decorations is highly undesirable because, over time, mold can cause damage, along with a funky smell. However, if your inflatable decorations should develop mold, all may not be not lost, as long as you act quickly, as it's possible to clean mold off inflatable items.
Do Inflatable Christmas Decorations Need to Stay Plugged In?
Inflatable Christmas decorations need to stay plugged in to remain inflated. However, it's also recommended that you unplug your inflatable Christmas decorations at night. You shouldn't deflate, and therefore unplug, your inflatable outdoor decorations when it's raining otherwise trapped water could lead to mold.
Although you should unplug your inflatable decorations at night, if you're using a waterproof extension cord, you can leave this outside, and just unplug your indoor plug. This will be less hassle for you, so I'd highly recommend using a waterproof extension cord with your outdoor inflatable decorations.
Waterproof Extension Cord
25 foot power cord
Durable, flexible design
Tested in temperatures as low as -50 degrees centigrade
Can You Use Timers on Outdoor Inflatable Decorations?
You can use timers on outdoor inflatable decorations. This is recommended, as you can ensure that your inflatable decorations aren't on for too long and that they power down at night.
By using timers with inflatable yard decorations you'll ensure that your inflatable yard decorations are fully powered up and inflated at the times you want them to be. You'll also ensure that you don't forget to power them down at night.
The only real risk when using timers on outdoor inflatable decorations is that they might be timed to power down during rain, and outdoor inflatable decorations shouldn't be deflated during rain. It's fine if you're going to re-inflate your inflatables in a few hours since the water should be shaken free, but bear it in mind if the water seems to be getting trapped.
Do Inflatable Decorations Use a Lot of Electricity?
Inflatable decorations don't use a lot of electricity. A reasonable estimate is around 100 watts per hour, with some users of outdoor inflatable decorations observing that inflatable decorations use less electricity than traditional outdoor lights. This means adorning your home with inflatable decorations shouldn't inflate your energy costs much!
Of course, the precise amount of energy actually used by your outdoor inflatable decorations depends on a number of factors. These factors include the size the motor used to power your decorations, and how efficient the motor's energy usage is.
Even though inflatable decorations may not use a lot of electricity, unplugging your outdoor inflatable decorations at night is still recommended not only to keep them from burning out faster but also to use less electricity. After all, there's no point in them being inflated when nobody is awake to appreciate them!
Suggested read: How to Plug in Multiple Inflatable Decorations Safely
Recommendation
In summary, you really shouldn't leave outdoor inflatable decorations on all day and night. I'd recommend that you don't leave them on for more than eight hours continuously and that you unplug them overnight.
So save electricity and money, and make your outdoor inflatable decorations last longer by unplugging your inflatable decorations at night. But also plan carefully when you unplug your inflatable decorations, as if you do so when they're wet and you forget to inflate them again shortly afterwards, you might have some mold issues.
Related Posts: